Dom Panorama Utrecht-Ultra Vision-Centraal Museum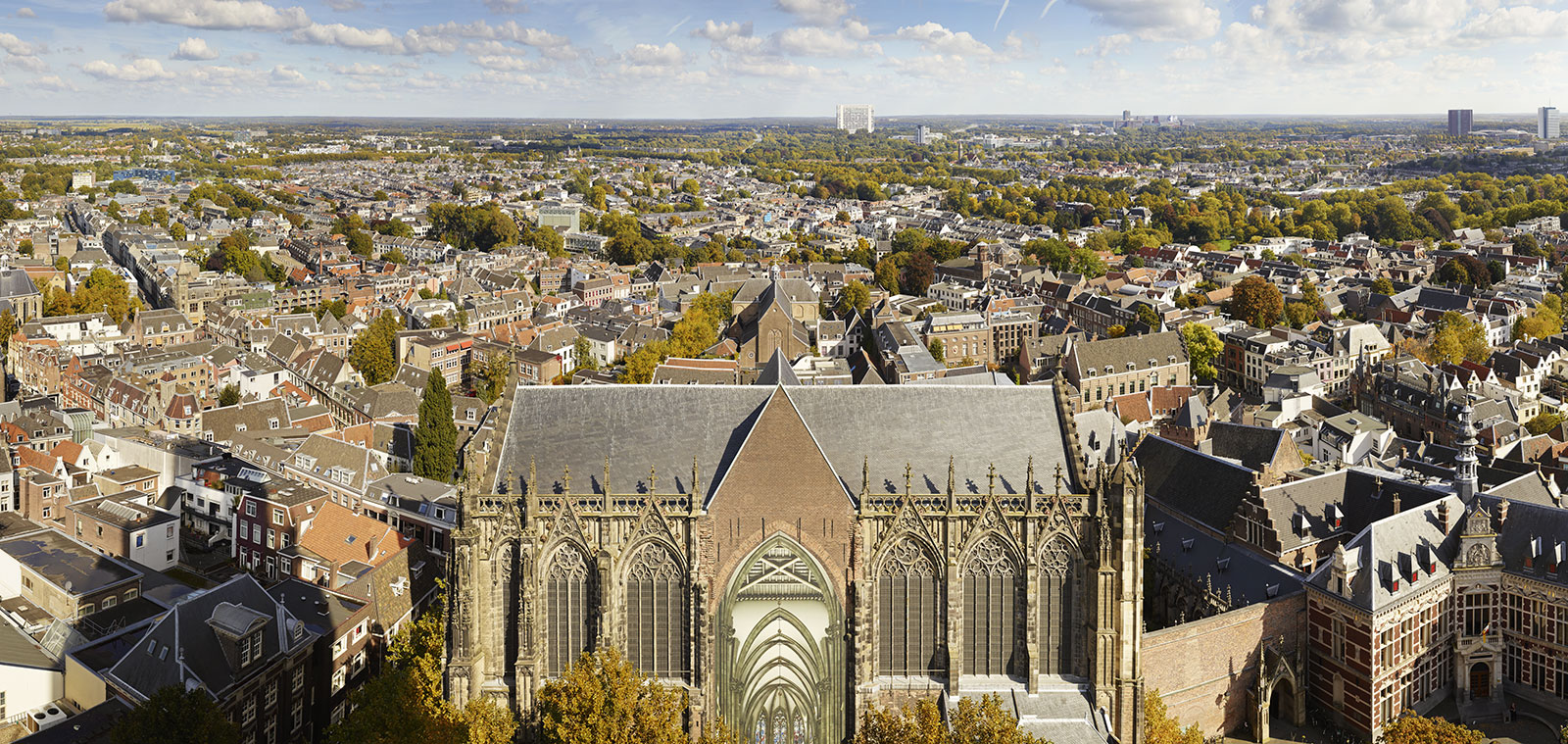 4 March 2016 t/m 21 August 2016
Over the course of the four seasons, Hans Wilschut (Ridderkerk, 1966) photographed four panoramas from Utrecht's Dom Tower. The panoramas in these two halls offer a view of the inner city, the suburbs, the city perimeter, and the province of Utrecht. Wilschut affords us a view of the city that a human eye could never see. As each panorama consists of 60 to 90 photographs taken from three different viewpoints (from 40, 70 and 95 metres high), the resulting image is crystal clear both close up and in the distance.
Just like his 17th-century counterpart Pieter Saenredam, famous for his detailed depictions of cityscapes and church interiors, Wilschut combines different perspectives and slightly adapts them to form a single coherent whole.
Wilschut originally trained as a painter and it is as a painter that he approached this work. The summer panorama, looking north, is reminiscent of a sparkling Ruisdael image, with lots of cloud dynamics. The contours of Amsterdam are just visible on the horizon. In the hazy spring panorama, the trees along the canals are just starting to bud. Wilschut chose to orient the winter panorama towards the west, to capture the quality of clear days and low-angle illumination. He made the autumn panorama facing east, towards the forested Utrechtse Heuvelrug.
With these expansive panoramas, Wilschut seeks to blend historical Utrecht with the future Utrecht, and to show how the city relates to the surrounding world. Ultra Vision is a contemporary cityscape with a modern conception of the age-old panorama.
Project Cityscaped, Utrecht in transition
Ultra Vision by Hans Wilschut is part of the project Stadsgezichten. Utrecht in transitie (Cityscapes. Utrecht in transition). This is a series of 12 photographic commissions by the foundation Stedelijke Fotografie Utrecht about the current scale enlargement of the city of Utrecht. The photo series will be displayed this summer in Het Utrechts Archief, Centraal Museum and at Kunstliefde.
More information: www.centraalmuseum.nl
A making of document was made by John Twigt en Pascale Wielenga