Het (H-A-L) Archief no 23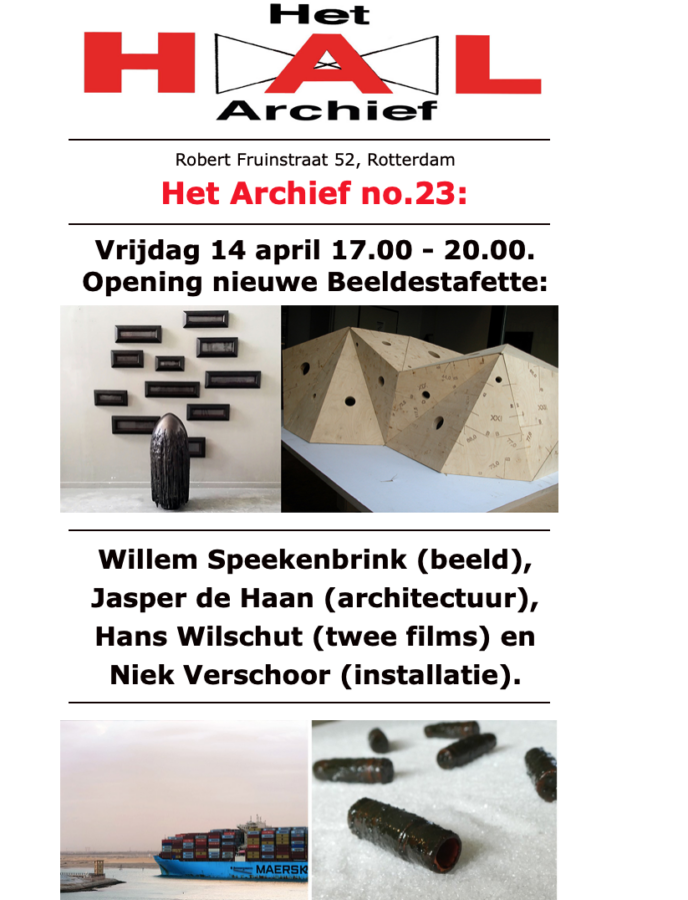 The new image relay with works by: Willem Speekenbrink (image), Jasper de Haan (architecture), Niek Verschoor (installation), Hans Wilschut (2 films).
Opening Friday, April 14, 5-8 p.m.
Also with works by: Martijn te Winkel (glass painting), Frans Verschoor, (video), Dineke van Huizen (painting installation) and Peter Redert (paintings)
Last week: Merijn Haenen (neon), Amrith de Zoete (kinetic sculpture)
The H.A.L. Archive
Robert Fruinstraat 52
3021XE Rotterdam
H(a)L-Het Archief is open every Saturday and Sunday and can be visited between 1-5 pm.
Festive opening every Friday evening at 5 pm
Every Sunday 3 pm music – performance
The ground floor of "Het Archief", Robert Fruinstraat 52, Rotterdam is a new art project space with surprising visual encounters and confrontations. Every week a new artist replaces a work, creating a new context and exhibition.
Further information: Herman Lamers, Art Index Rotterdam and www.hilton-art-lab.com.
Thanks to CBK Rotterdam, SKAR and Droom en Daad