MK Award Fundraiser Show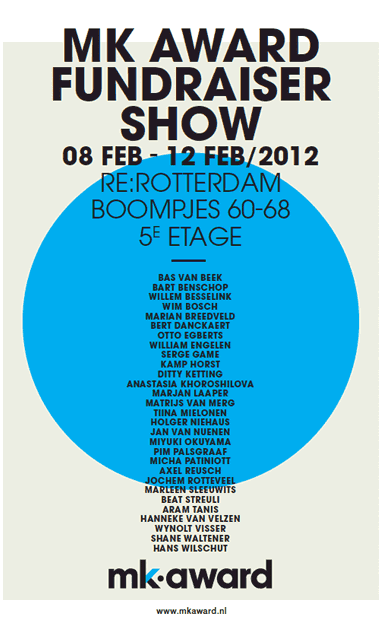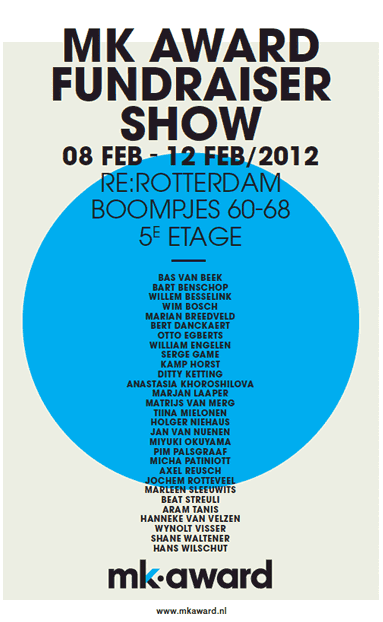 Parallel to Art Rotterdam 2012, the MK Award Foundation organizes the spectacular MK Award Fundraiser Show (February 8 – 12, 2012). Curated by Tanya Rumpff, a renowned Dutch gallery owner and art consultant, this show will for once unite the majority of artists that until recently have been presented by the former MKgalerie (Rotterdam/Berlin). Substantial amounts of the proceeds of the sales at the show will benefit the MK Award Foundation i.e. the MK Award.
Read more.
Participating artists include Bas van Beek, Bart Benschop, Willem Besselink, Wim Bosch, Marian Breedveld, Bert Danckaert, Xing Danwen, Otto Egberts, William Engelen, Serge Game, Kamp horst, Ditty Ketting, Anastasia Khoroshilova, Marjan Laaper, Matrijs van Merg, Tiina Mielonen, Holger Niehaus, Jan van Nuenen, Miyuki Okuyama, Pim Palsgraaf, Micha Patiniott, Axel Reusch, Jochem Rotteveel, Marleen Sleeuwits, Beat Streuli, Aram Tanis, Hanneke van Velzen, Wynolt Visser, Shane Waltener, Hans wilschut.
The MK Award Fundraiser Show is part of Re:Rotterdam 2012, a satellite art fair of Art Rotterdam at Boompjes 60-68 in Rotterdam. The MK Award Fundraiser Show occupies the 5th floor.
Visiting hours
Wed 8 Feb: 3 pm – 10 pm
Thue 9 Feb: 11 am – 7 pm
Fri 10 Feb: 11 am – 9 pm
Sat 11 feb: 11 am – 9 pm
Sun 12 feb: 11 am – 7 pm
Admission: free
How to get there
MK Award Fundraiser Show at Re:Rotterdam
Boompjes 60-68, 5th floor
3011 CX Rotterdam
Public transport
At Rotterdam Central Station, take Metro line D, exit at Leuvehaven; from there 5 minutes by foot.
By Car
In the Boompjes area, several paid parking facilities can be found. Ticket vending machines only accept either Chipknip or Creditcards.
Shuttle Bus
A shuttle bus will connect Art Rotterdam and the MK Award Fundraiser Show at Re:Rotterdam in a 20 minutes interval.
More information on Re:Rotterdam may be found at its website.